Blog
24 June 2020
44 Up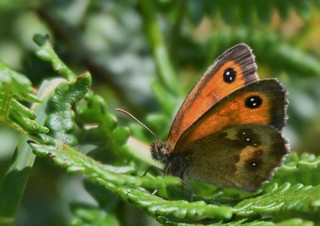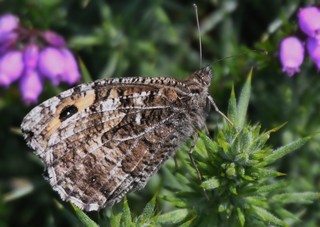 Went to Soar today after reports of lots of Butterflies between Soar and Bolt Head. Went looking for Gatekeeper and Greyling and happily found them both.
It was quite hot but also windy which was welcome for me but it was blowing them around abit.
Also saw plenty of Dark Green Fritillaries, Meadow Browns, Small Heath, Small Tortoiseshell, Red Admiral, Large White and Small Copper.
Lots of happy humans about enjoying the sun.
---
23 June 2020
Lulworth Skipper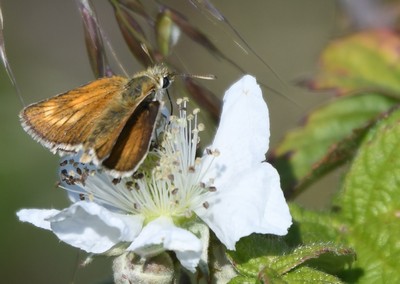 Went to "Bindon Hill" NR West Lulworth. This is the first time I have been to this site and had a few issues getting there due to parking and trying to find the entrance to the footpath. When I did all this and got to the top half of the hill was shut off due to it being a firing range and today it was in use.
But happily I found plenty of Skippers so all the fuss was worth it, definitely go again but try and find out when they are not using the range so I can access the whole of the hill.
Apart from the Ludworth saw Large Skipper, Meadow Brown, Marbled White, Red Admiral, Silver Washed Fritillary, Dark Green Fritillary and Ringlet. Loads of Flowers and the views were stunning, good trip!
---
23 June 2020
Purple Hairstreak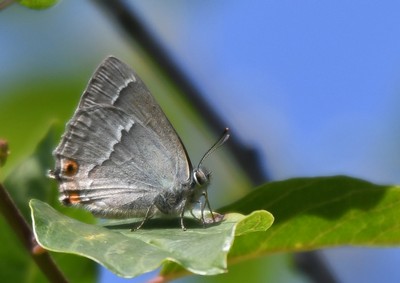 Went for my first visit to Alners Gorse in Dorset this year, one of my favourite places. Hopefully like the last 4-5 years I will make at least 3 visits this year.
Went up to find Hairstreaks, the White letter Hairstreak not out yet but must be close as other sites have them. Did see a few Purple Hairstreaks, most around the tops of trees but was lucky when one came down to say hello!
Lots of other Butterflies about, literally 100s of Meadow Browns, Marbled White, White Admiral, Silver Washed Fritillary, Ringlet, Small and Large Skipper, Small and Large White and finally a Small Tortoiseshell.
As normal coming here met some lovely people.
---
20 June 2020
Small Skipper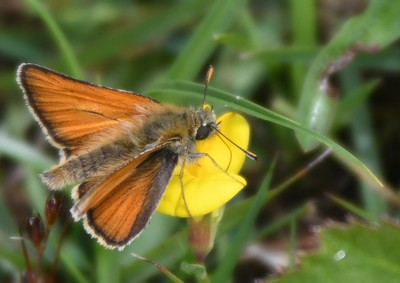 Didn't do what was planned today as life and the weather got in the way, which isn't the first and wont be the last!
Spent some time at Dawlish Warren around the ponds, because of the weather didn't see many Butterflies, Meadow Browns, Speckled Wood and a new one for the year a few Small Skippers, so not a wasted trip.
Saw a few humans and good to see everybody!
---
16 June 2020
39 up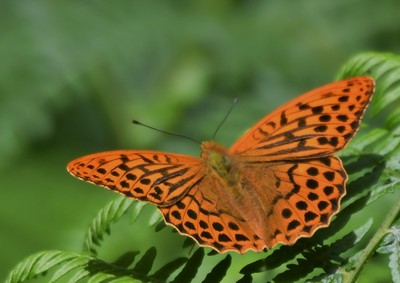 Been on the butterfly chase fairly local, mainly around woods and Bramble bushes at Ashclyst Forest and Holden Forest as well as the hedges and paths of Exminster Marshes.
Seen loads of Insects with Bees, Hoverflies and Dragons. The odd day flying Moth and plenty of Butterflies.
Three new ones with White Admiral, Ringlet and Silver-washed Fritillary.
It took some patience as all three were quite flighty but I have to be honest the only decent pics came from the SWF and the other two where crap hence I haven't put them up.
Other Butterflies seen were Small Torteshell, Red Admiral, Meadow Brown, Speckled Wood, Large White, Green Veined White, Common Blue and Large Skipper.
A few Humans about and all well behaved and happy!
---
08 June 2020
Collard Hill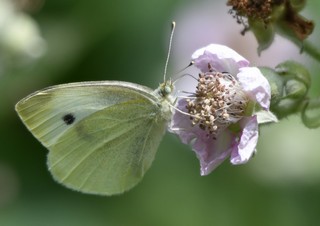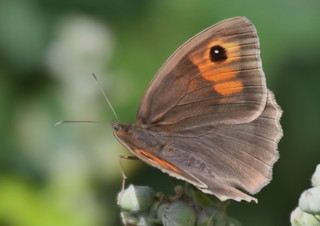 Went to Collard Hill in Somerset today to see the Large Blue, been coming here for a few years now and was shocked to see how the lack of rain has affected the site, completely barren and in need of rain, while I saw 5 large Blue with the lack of vegetation it dont give much for numbers next year.
I did see some great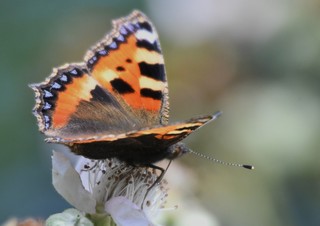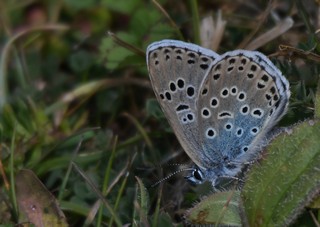 Butterflies on route to the hill just up from the car park, Loads of Meadow Browns, Large Skipper,Large White, Small Torteshell, Small Heath, Common Blue, Large Blue and Marbled White.
Two new ones for this year makes 36.
This site, especially the walk from the car park normally has loads of Orchids here, but with the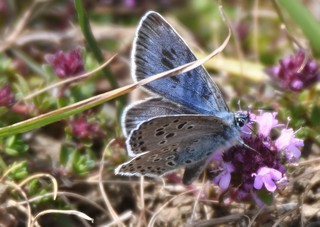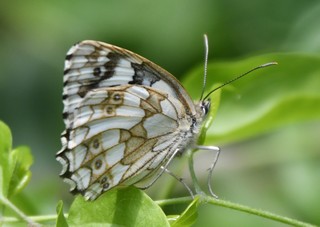 scorched earth only saw one which was a shame.
The views from the top looking over Somerset are spectacular and well worth the trip alone.
A few people about and nice to have a chat about Butterflies even at a distance!
---
07 June 2020
Adonis Blue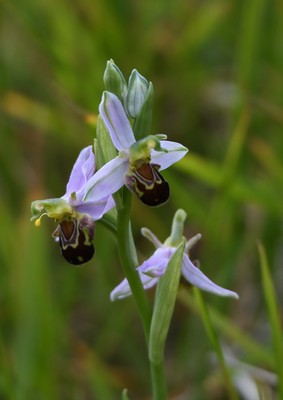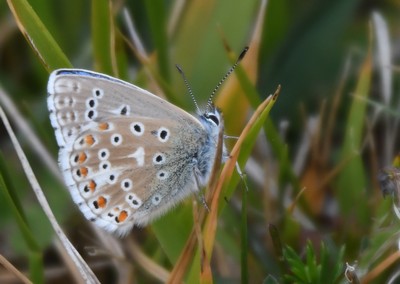 Went to Durlstone in Dorset on Friday, while it was quite windy and colder than I expected I did see quite a few Butterflies. Many had their wings closed and sat close to the ground, couldn't find the Ludworth which is what I went for but did find another new one for the year, a Adonis Blue.
I also saw Small and Common Blue, Large and Dingy Skipper, Meadow Brown and Small Heath.
Plenty of brilliant flowers being blown about, several Orchids with Pyramid and the stunning Bee Orchid.
Will be coming back in a couple of weeks to look for the Ludworth as well as the Essex Skipper which also has a presence here.
---
06 June 2020
Silver Studded Blue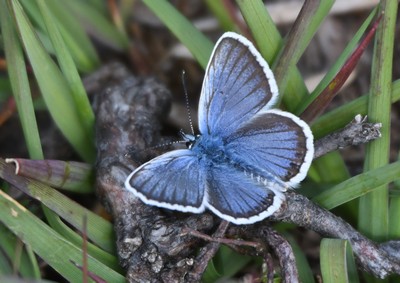 Went to Dorset yesterday to Durlston Country Park to look for some Lulworth Skipper.
On the journey down I popped into a new reserve for me, "Higher Hyde Heath" close to Bere Regis. Looks like a great place to have a walk around, especially for reptiles, but it was quite windy and the Butterflies were staying very close to the ground.
Didn't find any Lulworth on this trip but plenty of other things but need to check a few ids before I put it up.
This makes 33 species this year which under the circumstances is not bad!
---
02 June 2020
Black Hairstreak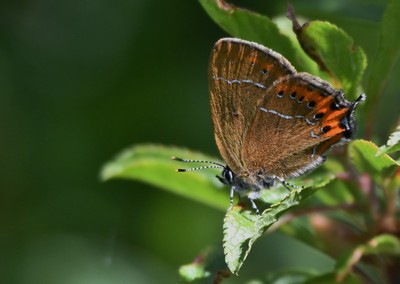 Ive been a few years trying to see and get a picture of a Black Hairstreak and each year something always gets in the way and I thought it would be the same this year.
So with Lockdown easing, fresh butterflies about and the weather turning later in the week I went for it!
Left at 5.45am for Bernwood Meadows, which is part of Bernwood Forest near Oxford. Took all my food and drink with me so I wouldn't need to stop, parked up and went to have a look around these wonderful meadows which is run by the Wildlife Trusts. Looking along the Blackthorns, one just appeared, probably from the Oak behind and posed long enough for me to get a picture, saw another 2 before leaving. Arrived back in Dawlish for 1.30pm which was good!
Plenty of other Butterflies about with another very mobile Small Tort, Small Copper, Common Blue, Copper and a Dark Green Fritillary. Plenty of Dragons soaking up the sun as well as many insects on the wild flower meadow.
Just a few humans about but all social distancing and saying high from a distance, at least they were all smiling!
---
© Simon Thurgood 2021
Images on this website may not be put as any part of any collection without any prior written permission.