Blog
14 January 2022
Bits and Bobs!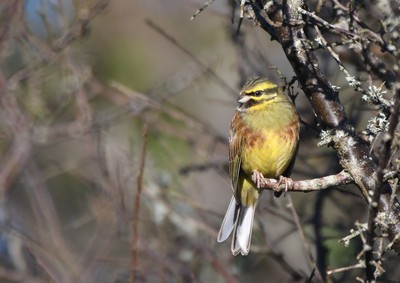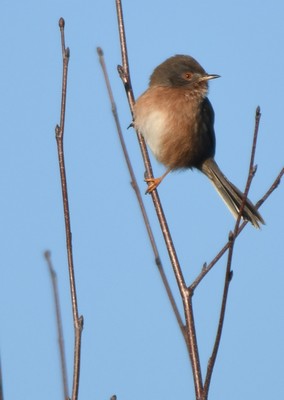 Been all over the place this week and trying to do some walking/photography and looking for wildlife about the place.
Between the fog settling over East Devon, work and life getting in the way I felt that I have been lucky to see the stuff I have.
I visited Seaton Wetlands, Aylsebere, River Exe at several points, Labrador Bay and the back roads of Starcross and Kenton.
The Wetlands was a bit quiet, the main lagoon was full of water and not many birds, did see signs of Water Vole in one of the ditches, Aylesbere was good, a few Dartford Warblers and Stonechat on view, all the hedges around the roads and reserves had many of the usual birds you would expect in Devon, plenty of Corvids about as well as Pheasants and red-legged Partridge, Kestrel, Buzzard and Sparrowhawk all seen.
Labrador Bay saw several stunning male Cirl Buntings and for once the sun was in the right place.
Didn't see many humans about unless they were attached to a dog!1
---
09 January 2022
Dartmoor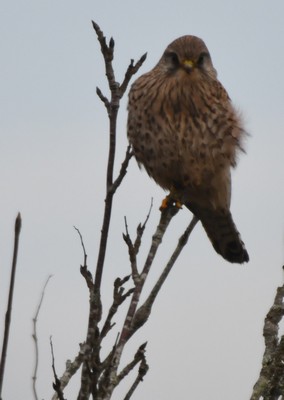 On a cold, windy and grey day, possibly Dartmoor is not the place to be but I always manage to find something!
Quite a lot of Birds about, especially in sheltered areas, plenty of Blackbirds, Song Thrush, Robins, Chaffinch, Bullfinch, Dunnock and wrens around the hedgerows.
Redwings and Corvids of every sort on the pastures, Herring Gulls, Wood Pigeons joining them, Stock and Collard Doves seen in flight.A Great-spotted Woodpecker, flying down the road in front of the car was a interesting with its up and down flight pattern.
A few Buzzard and more Kestrels seen than I have seen in a while, 4 in fact, one male and 3 Females.
Not that many humans about so had the place to myself for long periods.
---
03 January 2022
Out and About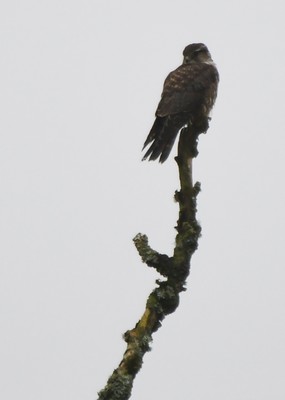 Early start to get to Stover to beat the Bank Holiday crowds, first car in but quickly followed by others.The water was quite full of birds with Mandarin, Mallard, Mallard X, Tufted, Shoveler, Wigeon, Moorhen, Coot, Mute Swan, Muscovy, Cormorant, Black-headed and Herring Gulls and Grey Heron.
The feeders and bushes were quiet with very little to see, Blue, Great and Coal Tit, Blackbird, Robin, Chaffinch and a Green Woodpecker. Not to mention all the very fat grey squirrels that are eating all the food about.
With all the screaming kids and dogs i made an exit!
Off to Yarner, Bird wise it was very quiet here, but busy with people, hides in use and car parks full, lesser Redpoll, Blue, Great, Coal and Marsh Tits, Chaffinch, Wren, Blackbird and a fly over noisy Raven was all to see.
The weather was deteriorating and was unsure on what to do, Dartmoor weather is so changeable so I decided to go for a ride, nothing was flying and all the birds seen like Redwing were seen on the pastures, the wind and rain picked up a bit but a ray of sunshine appeared when I saw this small Falcon pitch on a dead branch, its a Merlin!! Not seen one in this area before but it was a welcome site, a female or possibly an immature.
I managed to get close enough in my car and take the picture out of the passenger window although with the conditions I was pleased to get any picture, sat and watched it for about fifteen minutes before it went to ground, not sure if to get out of the weather or it spotted dinner!
---
29 December 2021
Powderham to the Marshes and back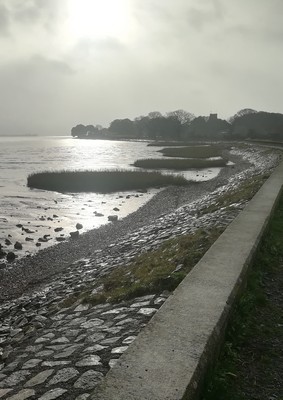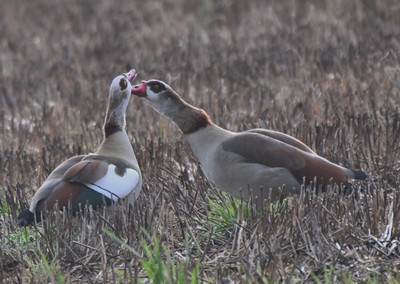 The weather this morning wasn't great, grey and wet, the high tide was about mid day and was hoping to walk the route to catch the hide tide as to see plenty on the Marshes.
So arrived at Powderham Church about 10.30am and started to water proofs on, get ready etc when I heard this strange cackle from the field, I looked up and there was some Egyptian Geese, in fact seven. in the past I had seen a couple in this field but never seven, possible family group?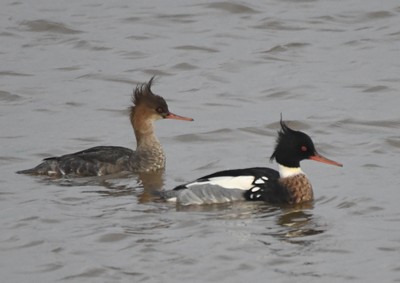 In the stubble fields ether side plenty of Pheasants, Woodpigeons, Rooks, Jackdaws and the odd Herring Gull all looking for food.
Over the bridge, the river looked grey and moody and just a ray of sun. A mixed flock of Ducks on the water with Pintail, Wigeon, Mallard and Teal, Waders seen on the river were Oystercatcher, Avocet, Grey Plover, Dunlin, Redshank and Curlew.
On the river its self, a few Red-breasted Merganser, Mute Swan, Grey Heron, Cormorant, Black-headed, Herring and Great-black Backed Gulls. On the wall there was several Pied and one White Wagtail, in the fields plenty of Rooks, Carrion Crows, Magpies and a single fly over Jay, Canada and a couple of Brent Geese on this part of the walk but hundreds of Canada's in the fields close to Turf with distant views of the Pink Foot and White-fronted Goose. I missed the Bean goose that flew off towards the Clyst.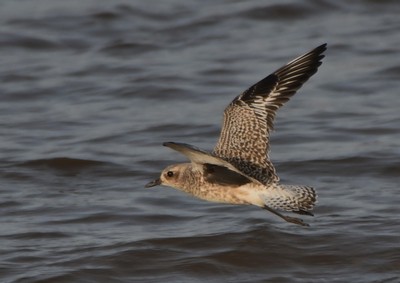 Domestic birds in the shape of Muscovy Ducks on the canal and two big white Farm geese on the field close to the Fishermans Car park.
The Marshes were full of birds being constantly being put up by Marsh Harriers, Sparrowhawk and Peregrine, another birder said he saw a Merlin but sadly I missed that.
Flocks of Starling, Lapwing, Godwits and Dunlin regularly put to the sky with Wigeon, Teal, Pintail, Shoveler, Mallard, Shelduck, Mute Swan, Coot, Moorhen around the pools, some fly over Snipe and Cettis, Wren, Robin, Blackbird, Reed Bunting, House Sparrow, Blue and Great Tits in the hedges and bushes.
Lots of humans about and all smiling and sociable, nice to see happy people!
---
28 December 2021
South Devon

Went the South Hams this morning, left 6.30am to get to Start Point for Sunrise, the plan being to park up at the car park and walk down to the Lighthouse and then walk back to the car via Matscombe, then to Beesands and Slapton Leys to see whats about.
I got to Start Point ok and on time but the wind was strong, strong enough to rock the car, from the car I could see nothing was flying and I didn't fancy walking around the cliffs with this wind so plan B was put into action and a diversion to Lannacombe Beach to do some Beach combing was first stop.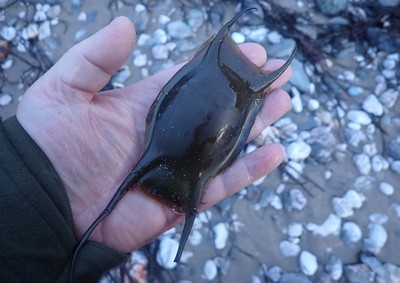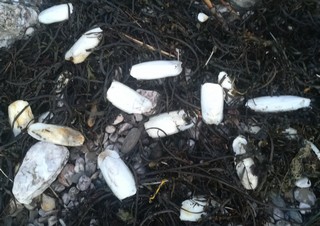 No birds on the beach or near bye bushes, all blown out but the beach was covered in seaweed and looked promising, it was "Bootlace Weed" or "Mermaids Tresses", it looks like loads of Bootlaces which is what I know it as, first thing I noticed that the beach was also covered in Cuttlefish Bones, never seen so many and unsure why this beach was covered in them? All the usual shells, a couple of Small-spotted Catshark eggcases and a very smart Blond Ray Ray eggcase.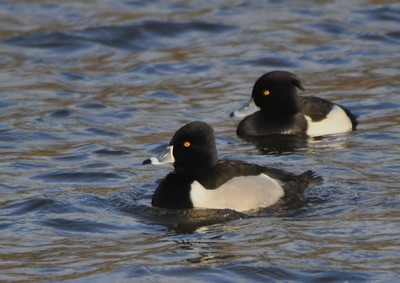 Feeling happier with myself I went off to Beesands Ley, the wind was still quite strong and all the birds were in the small bay and close to the reeds staying in shelter making it difficult to see, making matters worse a very aggressive Mute Swan was having ago at everything. When they did come out you got some great views of the Lesser Scaup, Ring-necked Duck, Pochard, Mallard, Tufted Duck, Teal, Shoveler, Coot, Grey Heron, Black-headed Gull, Black Swan, Mute Swans, Wood Pigeons, Magpies, Carrion Crows, Blackbird, Dunnock, Pied Wagtail and Canada Geese on the field behind the hide.
Off to Slapton Ley, due to the wind, waves where making it difficult to see birds on the water but still managed to pick out Mallard, Mallard X, Tufted, Gadwall, Great-crested Grebes, Mute Swans, Canada Geese, Coot, Moorhen, Black-headed, Herring and Great-black Backed Gulls and Cormorants.
The bushes were almost all blown out except for an area close to the entrance, several Cettis Warblers heard but not seen, Wren, Dunnock, Blackbird, Song Thrush, Blue and Great Tit, Robin and fly over Buzzard.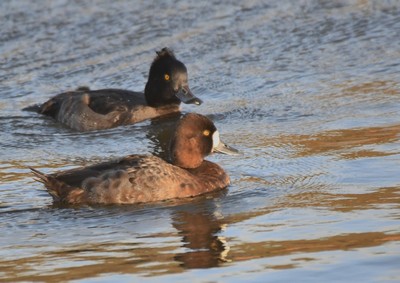 As the wind wasn't getting any better, I thought I would pop into Stover on my way home. It was so busy I couldn't even get into the car park so turned around and went home.
Saw a few humans about and most happy and well behaved that except some Dog Walkers at Slapton Ley, dogs off the lead and in the water and the usual bags of dog poo all over the place, depressing!
---
28 December 2021
Egg Casings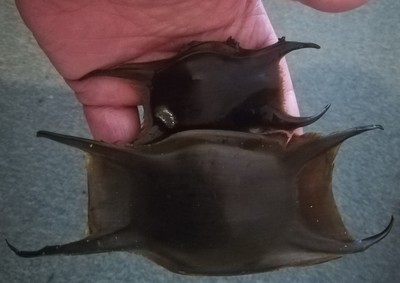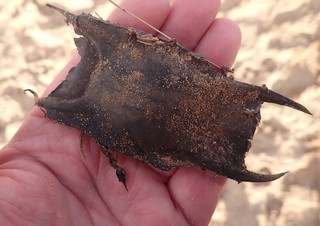 Starting to find Egg casings around the Beaches.
Picture on left shows the difference in size.
Blonde Ray at the bottom with Spotted Ray on top.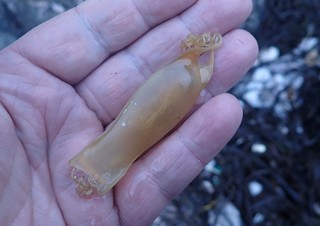 Thornback Ray top right and Small-spotted Catshark bottom right.
The Blonde Ray was found at Lannacombe and this beach is the only place I have found this egg casing, dont know why, perhaps I haven't looked hard enough!
---
25 December 2021
Merry Xmas!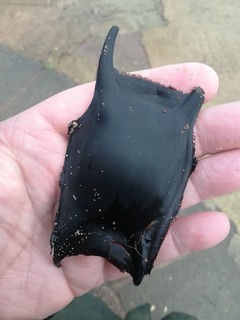 Out on a walk to Coryton Cove this morning before going to work.
Found this Thornback Ray Egg Case washed up, my first for a while.
Have a great day everybody and to those like myself, have a good shift!
---
22 December 2021
Out and About

Had an excellent day out today, started off with a Bacon Baguette from Ryder's at Dawlish Warren to go with my tea which I ate at Cockwood steps at first light. The River at high tide and choppy making it difficult to see anything in the water because of the waves, a few Cormorants and Black-headed Gulls and that was it. Cockwood Harbour was just filled with water and no birds but the Orchard and Starcross Golf Course had plenty of Brent Geese, Oystercatchers and Curlew.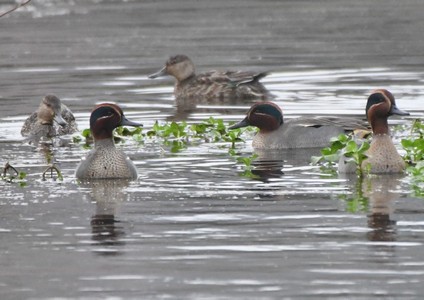 Further along by Starcross Train Station some Mute Swans, Wigeon and Teal, a few more Gulls around the Boats, mainly Herring Gulls sitting out of the wind.
The River Kenn out flow proved fruitless and very little on the River Kenn except a couple of Moorhen and Grey Heron. The wind was keeping the smaller birds on the floor and I saw plenty of Blackbirds about. I parked up at Powderham Church, Rooks, Magpies, Pheasants, Woodpigeons on the fields, Robin, Dunnock and Wren around the Graveyard as well as a Buzzard sat on a limb of one the trees which flew off as I passed, one of six I saw today. I walked to the otherside of the bridge that crosses the Railway, at high tide its a good area for Ducks on the River and sure enough about 50 Pintail and Shelduck sat just off the wall, I did take some pics but the light was crap and they weren't up to scratch which was the same all day, took loads of pictures but most have been deleted!
Got back to the car and went to Exminster Marshes and look for the Pink Footed Goose which has been around for a few days, sadly it wasn't there today but saw plenty of other stuff,great to see a flock of Golden Plover over head looking for somewhere to settle, a Marsh Harrier on the Marshes putting up the waders especially the Lapwings, plenty of Curlew, Godwits and Redshanks about, Mute Swan, Brent and Canada Geese, Wigeon, Teal, Shoveler, Tufted Duck, Mallard, Pintail and I thought I saw a Gadwall, Little Egret, Grey Heron, Moorhen, Raven, Carrion Crow, Jackdaw, Magpie, Woodpigeon, Blackbird, Robin, House Sparrow, Starling, Great, Blue and Long-tailed Tits, Wren and Cettis Warbler.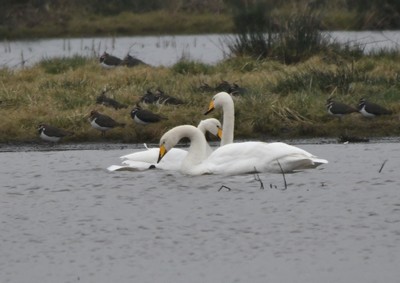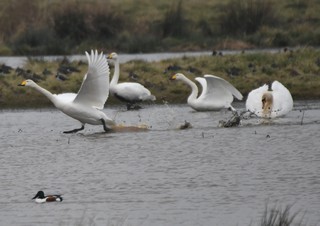 Then from the North 3 stunning Whooper Swans appeared and landed on the ponds behind the Fishermans Car-park, they were there for about 15 minutes before a rather aggressive Mute Swan objected to their presence and they flew off tot he centre of the Marshes, but still viewable from the Canal Bank, stunning Birds.
From here I went down the country roads at the back of Kenn and Starcross, plenty of Woodpigeon, Rooks, Pheasants, Red-legged Partridge, all the usual farmland birds. I also saw a herd of about 25 fallow Deer running across the Road, couple of Stags, just stopped the car and watched, stunning sight to watch them disappear across the field.
Came back via the back road to Starcross from Mamhead and plenty of cattle Egrets amongst the Cattle and Sheep as well as a few Little Egrets.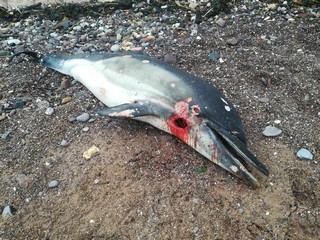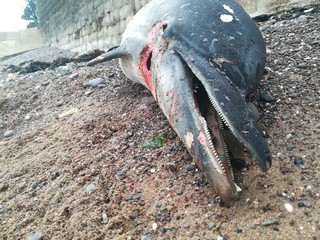 Back to Dawlish and a walk to Coryton Cove, the sea was quite rough and plenty of waves, hoping to find something around the beaches, sadly I wasn't expecting to find a dead Common Dolphin at Boat Cove, it didn't look fresh, it looked like it had been battered about in the Sea with the Birds taking a bite from the wounds, sad to see but we dont live forever! I did report it on the Govt site but what they do with the information I do not know?
Surprised not to find much on the beach, a few Pied and grey Wagtails, Rock Pipits and the usual Gulls.
With the dark clouds coming in time to go home, looking forward to the lighter evenings.
---
20 December 2021
White Fronted Geese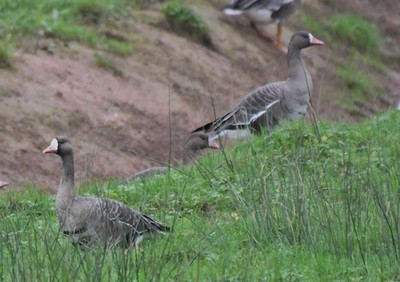 Typically while I have been to work there has been a bit of an influx of Grey Geese, Russian White Fronted Goose at South Huish and The River Otter close to East Budliegh, also a Pink Footed Goose at Exminster, Barnacle Goose also at South Huish as well as all the Brents and Canada's about.
Today got lucky as with a day off and the 34 White Fronted Geese where on the area just up from the car park at East Budliegh.
Lots of people about, dogs the works, most humans ok, but did meet a few idiots, sadly older members of the human race who should know better! Merry Xmas!!
---
14 December 2021
Out and About

On this rather grey miserable day decided to stay close and spend some time on the River Exe, Exminster Marshes and around the hedges and roads at the back of Starcross and Kenn.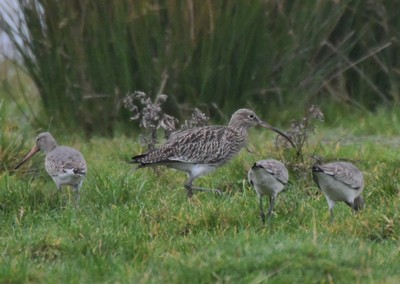 On the River itself saw Cormorants, Shelducks and Red-breasted Mergansers, as the tide was out saw plenty of Waders with Avocets, Godwits, Curlew, Oystercatchers, Dunlin, Red and Greenshanks.
Didn't see great numbers of Gulls but Black-headed, Herring and Great-black Backed Gulls all seen. Grey Heron and Little Egrets all seen flying around Powderham Estate.
A few Ducks about but not as many as I expected and only saw Mallard, Shoveler, Teal and Wigeon, a few Moorhen, Canada Geese, Brent Geese, 2 x white Farmyard Geese at Exminster M, Mute Swans.
Lapwings, Pheasants, Woodpigeons, Collard Doves, Buzzards, Kestrel, Magpie, Jay, Carrion Crow, Rook, Jackdaw, Wren, Blackbird, Meadow Pipit, Dunnock, Robin, Great, Blue and Long-tailed Tit, Chiffchaff, Cettis Warbler, Reed Bunting, Pied Wagtail, Stonechat and House Sparrow.
A few Humans about and all socially distant!
---
© Simon Thurgood 2022
Images on this website may not be put as any part of any collection without any prior written permission.